This Perfect Buttermilk Pancake recipe is quick, easy and delicious! Hot, fluffy homemade pancakes are simple to make with this family favorite recipe!
Pancakes are most definitely a breakfast favorite in my family! We love a fluffy stack drizzled with syrup on weekends or even when we crave breakfast for dinner. And these Perfect Buttermilk Pancakes are so simple, easy and delicious, I make them often during the week for breakfast too.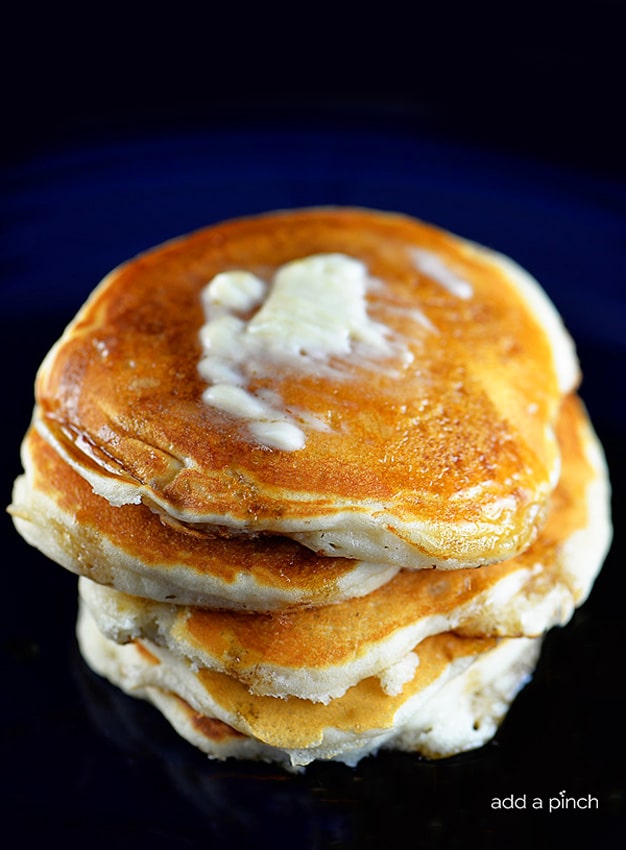 Homemade pancakes from scratch are quick and easy anytime since this recipe uses ingredients that you most likely have in the kitchen. Breakfast needs to be simple and scrumptious and these golden delicious favorites sure are!
Perfect Buttermilk Pancakes
This pancake recipe is sized just right for four people and is easily doubled if you need to feed a few more people. While this recipe is so simple and easy enough to whip up anytime, sometimes I am feeding a crowd or just want to freeze some for later. To make a lot of them at once, I've shared my large quantity pancake recipe that makes these same fluffy, delicious buttermilk pancakes everyone loves!
How to Make the Best Pancakes
Fail-proof, quick and easy recipes are my definite go-to recipes and these buttermilk pancakes absolutely fit that description! For this recipe, you'll need:
Ingredients
Flour – Use all-purpose flour or whole wheat flour, if you prefer. You can also do a blend of all-purpose and whole wheat based on your preferences. I have also substituted a gluten-free flour with great success.
Sugar – Granulated sugar is the default sugar to use in this recipe.
Baking Powder – You will use baking powder and baking soda in this recipe. The combination makes for delicious, fluffy buttermilk pancakes.
Baking Soda – You'll also use baking soda since these are buttermilk pancakes and the acid in the buttermilk combined with the baking soda ensures the fluffiest pancakes!
Salt – The salt in this recipe helps to balance the sweetness and give additional flavor. If you use salted butter, you may want to reduce the salt called for in the recipe to 3/4 teaspoon.
Buttermilk – You'll want to be sure to use buttermilk for this recipe. If you don't have buttermilk on hand, you can easily make your own buttermilk with ingredients you have on hand!
Resource: How to Make Buttermilk Substitute
Eggs – This recipe uses two fresh eggs. If you need to substitute the eggs, I recommend a commercial egg replacer. I've found that flax eggs can cause pancakes to be a bit heavy and dense and applesauce causes the batter to become too thin. You may need to test to reach your desired final replacement.
Vanilla Extract – The vanilla extract adds so much flavor to this recipe! If you've not added it to your pancakes in the past, believe me when I say it makes such a difference!
Butter – You will use melted butter in the batter as to coat your griddle or skillet for cooking.
Step-by-Step Instructions
Whisk dry. Whisk together flour, sugar, baking powder, baking soda, and pinch of salt in a medium bowl.
Whisk wet. Whisk together buttermilk, egg, and melted butter or cooking oil in a 2-cup measuring cup.
Combine. Pour buttermilk mixture slowly into the flour mixture, stirring to combine as you pour. Allow to rest for at least 5 minutes for the fluffiest buttermilk pancakes.
Heat. Heat griddle or skillet over medium-low heat. Add butter to griddle or skillet to make sure well coated.
Cook. Scoop batter onto prepared griddle or skillet by about 1/3 cup. Allow to cook until the edges have lost their sheen and bubbles have formed in the center of the top of the pancake, about 2-3 minutes. Flip the pancake and allow to cook about 2-3 minutes on the other side.
Serve. Remove from griddle or skillet and serve warm or place on a rimmed sheet pan in a 200º F oven to keep warm for serving.
Since these are ready in just a few minutes, it's not hard to get everyone to the breakfast table when they know these babies are waiting on them. Light, fluffy, and so delicious, you'll get requests for these all the time. I promise!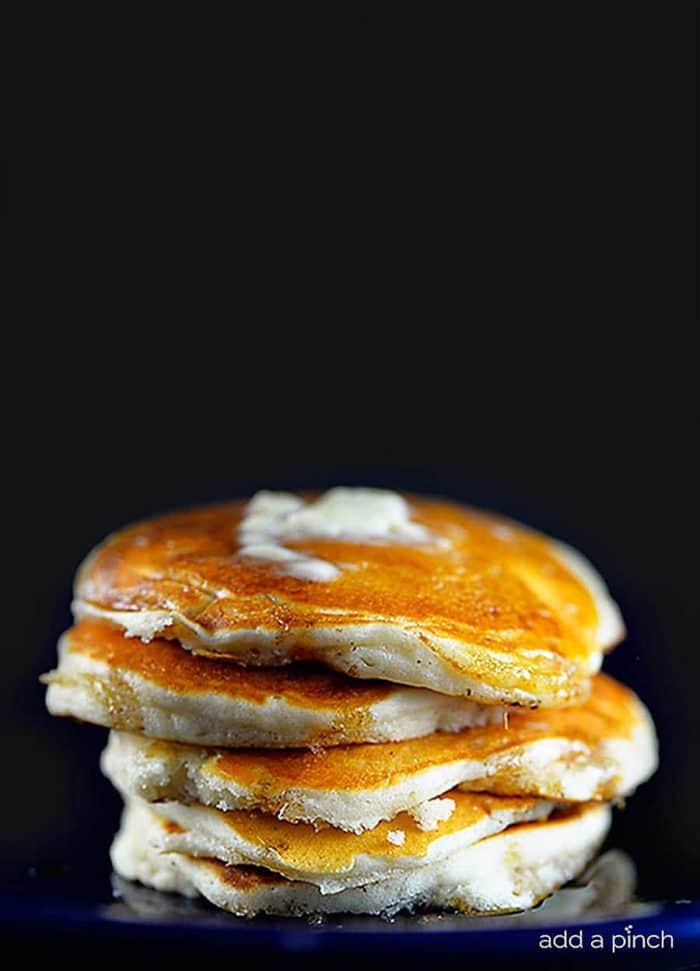 Can I Make These as Gluten-Free Pancakes?
Yes! I've made these many times using our favorite gluten-free flour substitutes.
Can I Make These Ahead of Time?
Yes! We have a solution for short term and even a bit longer!
Up to 30 Minutes Make Ahead – Place the pancakes in a single layer onto a parchment-lined sheet pan. Then hold the pancakes in a 200º F oven for up to 30 minutes.
Up to 2 Days Ahead – Allow the baked pancakes to cool completely. Place into a zip top bag and into the refrigerator for up to 2 days. To reheat, place in a 350º F oven for 5 minutes.
Can I Freeze Pancakes?
Absolutely! Pancakes freeze beautifully. Simply place them in a single layer on a parchment lined sheet pan in the freezer for 30 minutes. Then, remove them from the sheet pan and place into a freezer-safe, zip top bag and freeze for up to 1 month. To serve, allow to defrost and then reheat them in a 350º F oven for 5 minutes.
Here's my Perfect Buttermilk Pancake Recipe. I hope you enjoy them as much as we do!
Enjoy!
Robyn xo